About Striking Note Records
Founded by Mark Hauptschein, Striking Note Records is an indie record label with the goal of making timeless music that feeds the mind and soul.
A life-long musician and songwriter, Mark abandoned the corporate world in 2013 to dive full-time into music.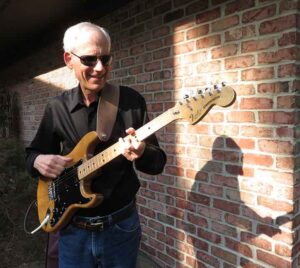 Striking Note's first project was Camila Ballario's Another Good Mistake, an album written by Mark and co-produced with Rich Rankin. The title track earned second place in the John Lennon Songwriting Contest.
Mark next took on the artist's role himself with the releases of Killer Ghost and Blind the Truth. Inventive videos were made for each. Check them out at his YouTube Channel.
Years of composing and recording are now coming to fruition with all-new songs to be released on a continual basis.
Mark's songs soulfully portray life's ups and downs. Rooted in folk rock, Americana, rock, and singer songwriter, with touches of other genres, the music's emotional twists and turns bear repeat listens.
You'll hear beautiful ballads, funk infused rhythms and driving rock tunes. All with real instruments played with heart.
Please visit our contact page for inquiries.